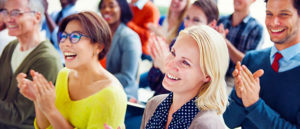 Too often in business, we gloss over the importance of our mental well-being. Although we understand people are the key to success, we do little to nothing to support our teams. And if you're like I was – it's hard to tell the good practitioners from the bad.
Harriet has a unique ability to teach mindfulness that makes a difference in all aspects of the lives of your people. I use her techniques daily and in turn it's made me more productive, a better communicator and most importantly – living in the moment. I'd HIGHLY recommend having Harriet come in to your team, company or organization to teach you how to be a better version of yourself.
— Bill Morrow, Managing Partner of Empirical Consulting Solutions, LLC
---
I have attended many of Harriet's Mindfulness Sessions while she conducted weekly sessions at Johnson & Johnson. I looked forward to these sessions each week. Harriet is an inspiring individual and her Mindfulness sessions were just what I needed while working and taking care of a sick parent for 4 years. I used to look forward to those sessions to get a break and be able to breathe. I recommend one of Harriet's mindfulness sessions whether you are experienced in meditation/mindfulness or new to the practice.
— Manager, Johnson & Johnson
---
Harriet made it easy to grasp the concept of mindfulness. She teaches in a manner that is simple to practice on a regular basis. Mindfulness can sound foreign, but Harriet makes it quickly become familiar. Mindfulness with Harriet is a breath of fresh air and a clearing of the mind. Each time I practiced with Harriet I felt more mental clarity and a sense of calm.
— Wellness Program Coordinator