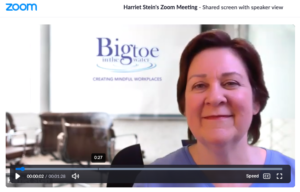 We are living during very challenging times right now.  Yes, you can do something to reduce your stress and feel better about today, the situation around you, and the future ahead. It's with a practice called Mindfulness – a tool all of us can use.
Harriet Stein, President of Big Toe in the Water, LLC, teaches Mindfulness for the workplace, and is currently teaching one hour VIRTUAL programs and multi-week classes.
For all who attend you will have tangible takeaways. These include:
Tools to decrease the level of stress you are experiencing from our current hyper-stressful life that has become our new reality.
Tools you can use while working, and while you are enjoying (yes, enjoying!) your personal time.
Life-changing, actionable skills to use to increase work performance and make you more efficient in everyday life.
Tools to help you support your family and can share with your children.
Tools you will carry with you and continue to use once our session and time together is complete.
There will also be time for Q&A, so you can privately via chat bring up questions you may have about this practice and how you can implement it.
CONTACT HARRIET TODAY IF YOU'D LIKE TO CUSTOMIZE A PROGRAM FOR YOUR ORGANIZATION.
---
TESTIMONIALS FROM RECENTLY TAUGHT SESSIONS:
"I had so many emotions going on during your session.  Crazy as it sounds, it felt good to do this session in the privacy of my own home so I could laugh and cry without holding back." 
"Just wanted to give you a big shout out and thank you for the awesome webinar you hosted last week. The slides and information provided were great and had an amazing meditation experience.  It made me get back into my daily meditation routine with feelings of hope and inspiration."
"This is absolutely the perfect time to be developing these skills."
"I found the class to be thought-provoking and encouraging. Plus, you get an opportunity to be still during each session which is a great stress-reducer."
"I'm someone who doesn't do well with meditation so I was a little skeptical of mindfulness, even though it's not the same thing. Harriet did a great job of teaching us how to practice mindfulness and demonstrated easy ways for us to take mindful breaks and incorporate into a daily routine. I've definitely been using what she taught us."
---