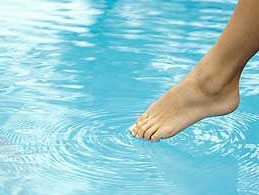 Many years ago, I approached an internationally known scientist and writer (and the teacher that introduced me to the practice of Mindfulness) after a conference session for some advice. I was hoping he would share a colleague's name that could use my professional experience and passion to help me move into a new career. The teacher, Jon Kabat-Zinn, listened intently as I quickly tried to boil down decades of life and professional experience into five minutes.
Then he simply replied, "Why not just put your big toe in the water?" He smiled and continued, "Just take one little step…try just one little thing." I smiled in return, thanked him, and walked away confused and wishing he would have just given me the "lead" I was hoping for. Looking back at that moment, I realize he gave me so much more. He gave me an honest answer about how to create the life I wanted to live.
I contemplated the meaning of Jon's words for months. Just put my big toe in the water?? Slowly – V…E…R…Y… S…L…O…W…L…Y – I started doing just that. I began to make choices, conscious choices, and to pay attention to what would truly make me happy.
Click here to read the rest of the story on How to Live Your Dream.